Information - Contact - Technical information

Bilbao Airport (IATA code: BIO and ICAO code: LEBB) is Spanish international airport located 12 kilometers from the city of Bilbao, in the Basque Country (Bizkaia, Euskadi), being the most important airport in the extreme north of Spain. Its facilities and flight field are in the municipality of Sondika (Sondica) to the southwest, and in the municipality of Loiu (Lujua) to the northeast.
Bilbao Airport is also popularly known as Bilbao-Loiu Airport, as Loiu is the municipality that hosts the Passenger Terminal, although it was previously known as Sondika Airport, for being Sondika where the old terminal was built. It is also known as La Paloma Airport, for the peculiar design of the current passenger terminal that resembles a dove in flight. The terminal was designed by the architect Santiago Calatrava and opened at the end of the year 2000, and it's considered one of the 10 most beautiful airport terminals in the world.
The airport houses the main base of the Volotea airline, and the second most important base of the Vueling airline.
The facilities
The public schedule of the airport is throughout the year from 5:00 a.m. (5:00h.) to 12:00 a.m., midnight (00:00h.), as long as the flights are kept on schedule. However, it is allowed to spend the night at the airport in an area of ​​the Rent a Car area, located on floor 0 of the general parking lot or P1. Working hours in that area also end at 12:00 am, midnight (0:00h), so there are no airport staff in service although there are seats, toilets and a machine with vending products.
Since the Bilbao airport is located in Euskadi (Basque Country), the airport signage is available in Euskera (Basque), Spanish and English.
Number of passengers
As for air traffic, the airport currently exceeds 5 million passengers per year although it is prepared to receive up to 8 million annually. Its main national destinations are Madrid Airport and Barcelona Airport , while its main international destinations are the airports of the city of London, Munich and Paris.
In 2019, almost 6 million passengers passed through its facilities and 51,591 flights were operated. Cargo handled by the airport amounted to 979 tons.
Information and contact
Bilbao Airport
Address: 48180 - Loiu, Bizkaia
Phone number: (+34) 91 321 10 00
e-mail: infobio@aena.es
AENA (Information and customer service)
Phone number: (+34) 91 321 10 00
www.aena.es
Contact for people with hearing and/or speech impairment:
Aena has an information and customer service line for passengers with hearing and/or speech impairment. This services allows users with these impairments to contact the Information and Customer Service Line from their computer, tablet or smartphone, and access the chat via the following link; without the need for other people to act as their intermediaries. The service is available from 07.00 am to 12.00 am, 365 days a year.
Persons with impaired hearing .
Complaints and claims: For clarifications, suggestions and complaints regarding airport facilities and services (cleaning, air conditioning, information service, assistance service for people with reduced mobility, security services, etc.) you can access Aena's telematic services portal.
If you wish to make a complaint about a restaurant service (cafeterias, restaurants, etc.), bear in mind that they have their own Official Book of Catering, in which you can make your complaint, complaint or suggestion in the same place as the events.
Lost and found
If you have lost an item at Bilbao airport, you can contact the Lost and Found office at the airport terminal, which is located on the 3rd floor, in the check-in hall.
Its telephone number is (+34) 944 869 661.
infobio@aena.es
Lost objects in the aircraft
If you lost an item on the plane you were traveling on, you should contact your airline or the airline's handling company.
Handling companies:
Groundforce: 944 869 801, baggage claim hall, level 1.
Iberia: 901 111 342, baggage claim hall, level 1.
Job advertisements
The airport has the IATA code: BIO and the ICAO code: LEBB.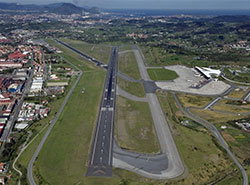 Runways
Bilbao airport has two runways:
Main runway heading 12/30, 2600x45 meters in length (8,530x148 feet), at an elevation of 42 meters above sea level. The runway is equipped with ILS/DME CAT I precision instruments for approaches with poor visibility.
Runway heading 10/28, 1.450(2.000)x45 meters in length, 4.757(6.562)x148 feet, at an elevation of 42 meters above sea level. The runway is equipped with ILS precision instruments for approaches with poor visibility.
Terminals
The airport has a four-storey passenger terminal, an office building (former terminal) and a cargo terminal. There are covered and uncovered public parking spaces in the vicinity.
To improve the passenger experience, the terminal has a number of restaurants and cafes located within an area of 1,381 m2, as well as other facilities.
WHO WE ARE
Aeropuerto-bilbao.com offers the visitor information related to Bilbao Airport, but has no direct or indirect relationship with AENA, which manages most of the Spanish airport network. For clarification on flight schedules, connections, immigration services, airlines and/or luggage, please contact the e-mail address infobio@aena.es. If you wish to advertise on billboards inside or outside the airport, you can address your inquiry to airlinebox@aena.es.
The aeropuerto-bilbao.com website is managed by Aeropuertosenred, a private company that offers information on Spanish airports and news of the sector. To contact us at Aeropuerto-bilbao.com please write to the e-mail address