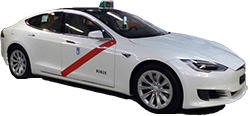 Bilbao airport has a taxi rank located in front of the Passenger Terminal Building, on the level 1 (Arrivals sidewalk), with a capacity for 64 vehicles.
You can access to the airport in a taxi from any taxi company. However, the collection of passengers at the Bilbao airport is only done by taxis from the Femade Auto Taxis Association (Federación Margen Derecha del Taxi), unless you have previously hired a taxi service with another company Taxis.
Bilbao taxis are white and with a red stripe on the side of the vehicle.
Taxi rank at the Bilbao airport:
Passenger terminal, level 1, Arrivals sidewalk.
Rates
The taxi journey from Bilbao Airport to the city center or vice versa takes approximately 10 to 15 minutes, depending on traffic. The rates that apply from the airport are fare number 3 and 4:
| | Fare 3* | Fare 4* |
| --- | --- | --- |
| Per kilometer | €0,653574 | €0,722776 |
| Waiting hour | €17,95 | €18,87 |
| Minimum service | €6,14 | €6,74 |
* Fare 3: weekdays from Monday to Friday, from 7 a.m. to 10 p.m.
* Fare 4: Saturdays, holidays and nights from 10 p.m. to 7 a.m.
Price supplements or surcharges in the rates of Bilbao Taxis:
If you request the service by phone, what the taximeter dials to the meeting point with the passenger will be added to the amount..
There is no airport supplement.
Artxanda tunnels toll is included in the guidance prices detailed below.
There is no supplement for luggage up to the vehicle capacity.
Guide dog and passenger wheelchair have no supplement.
Approximate prices to different destinations:
Indicative prices with the descent of the flag and the VAT (IVA) included.
Bilbao: €24-29
Burgos: €270-290
Durango: €55-60
Gernika: €55-60
Getxo: €28-38
Logroño: €235-250
Mondragón: €85-95
Pamplona: €245-260
San Sebastián: €155-170
Santander: €155-160
Termibús (bus station): €28-33
Vitoria: €115-125
A long or expensive journey?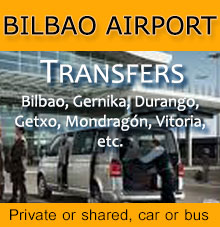 Check the advantages of private or shared transport from / to the airport.