The check-in process tells the airline that the passenger has taken the last step to take the flight.
At Bilbao airport, as in any other airport, check-in in the traditional way is done in person. To do this, the passenger must present at least 2 or 3 hours in advance to the check-in counter that corresponds to their airline, and once there provide the airline staff with their personal identification and / or passport, along with their ticket or the reservation locator code, which consists of six numbers or letters, and which are provided when making the reservation.
If you have luggage to check in, that is, luggage or packages that will go in the baggage area of the plane, that baggage must be presented at the check-in counter, where it will be weighed and labeled. Once the check-in process is finished, the passenger will be given a boarding pass with printed information on the departure of their flight: expected flight time, terminal, boarding zone and gate, and the receipt of checked-in baggage.
Check-in online
To avoid queues at the airport and facilitate the passenger check-in process, many airlines allow online check-in or webcheck-in online.
This type of check-in is normally allowed from 48 hours before the flight and up to two hours before the flight departure, and is done on the airline's website. This system allows you to confirm your attendance at the flight, eventually choose a seat on the plane and even hire a possible excess baggage to checked in, as long as the airline allows it.
Visit the website of your airline to check-in online.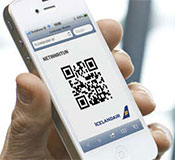 TEM mobile boarding pass
The TEM mobile boarding pass is an image with a 2D code that contains all the essential flight and passenger data. If the passenger does not need to check baggage, upon arrival at the airport you can go to the security control closest to your boarding area.
Always confirm with your airline the boarding time and the maximum deadline for luggage delivery (not less than 45 minutes before departure).
If possible, arrive at the airport 2 or 3 hours in advance in anticipation of queues at check-in counters or any other unforeseen event that may arise, especially in high season, massive sporting events, holidays, long weekend, etc.
Once at the airport, if you carry luggage, go to the corresponding check-in desk of your airline to check it in.
If you check in online (web check-in) beforehand, your luggage will be checked in fairly quickly. Sometimes, there is even a Fast Check-in counter just to leave your luggage.
Never leave your luggage or bags unattended, always carry it with you.
Do not check-in luggage of unknown persons in your name, nor carry it with you as hand luggage, since you will be solely responsible for its contents before any possible registration in the security controls.
Always check before leaving the counter: your passport or ID, your boarding pass and be sure of that all your travel data match. If you have any questions, ask the counter staff.
Be sure not to bring liquids, gels, beverages, cans or sodas open or unsealed, as they can be rejected by the security control. Consult the regulations and safety measures in this regard.
In case of doubts consult the additional information.
Check-in counters and boarding gates at Bilbao Airport
Passenger Terminal - Terminal building
Departures hall, level 3.
Check-in:
Departures hall, level 3.
36 check-in counters.

Security controls:
Security controls, level 3.
As a safety measure, all passengers must go through the security check before boarding the aircraft. It is a common process in all airports and consists of passing through a metal detector arch. Likewise, security staff can ask the user to take off their shoes and remove bulky clothing.
Hand luggage and everything you carry with you will be checked by an X-ray machine. The staff will ask you to deposit the items you carry with you in trays placed for this purpose. Laptops and tablets should be removed from their carry-on bags. The batteries of the devices must be sufficiently charged, at least, so that the device can be started.
Boarding Area Level 3
Boarding area:
Located on the third level, the boarding area is accessed after passing the security checkpoint. The boarding area gives access to 14 boarding gates distributed on this floor and on the 2 floors immediately below (level 3, level 2 and level 1). On the upper floors, access to the aircraft is via of 6 jet bridges, while the doors of the 1st level connect directly to the parking platform. A lift is available for people with reduced mobility (PRM).
Depending on your destination, you must also access a documentation check before boarding (passport or others).
Boarding gates:
Gates 1R and gate 6R, level 3.
Gates A11, A12, A13 and gates B14, B15 and B16, level 2.
Gates C21, C22, C23, C24 and gates D31, D32, D33 and D34, level 1.